Why choose Us

?
We provide you with a top-of-the-line roofing solution that is durable, safe and quality checked. We take care of your big investment by delivering matchless product and impeccable services at a fair price. We have successfully completed a number of projects in our exclusive ways, which has been recognized by our clients as the best construction, the best installation, the best services and the best work overall. Moreover, our roofs are self supported, nut and bolt free, voluminous, maintenance free, damage ...
Read More...
Who we are
APM infrastructure, a division of Agarwal Movers Group, is a team of committed specialists who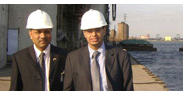 have been investing all their efforts to take the company to the pre-eminent position in providing self-supported steel roofing solutions right across India. We strive for infusing innovation into our value-based processes and deliver services above...
Read More...